We are excited to invite you into one of our customer's homes to see how the Precision Process is implemented and carried out to completion.
We will follow their journey from the beginning when they first visited our showroom to the very end when the last bit of dust was cleaned off of their beautiful tops!
Betsy and John, the homeowners, have lived in a close-knit neighborhood in Sherwood for twenty years. Now that they are empty-nesters, they've had more time to focus on some home improvements. After some exterior projects they looked inside and realized they may want to renovate their kitchen.
First up was an appointment with one of our designers in the Precision Countertops showroom. Betsy said she felt as if her assigned designer was both a mind reader and a psychologist. Asking her and John questions until they came up with some options. John and Betsy wanted to do a timeless design so they made sure their material choices wouldn't date the kitchen.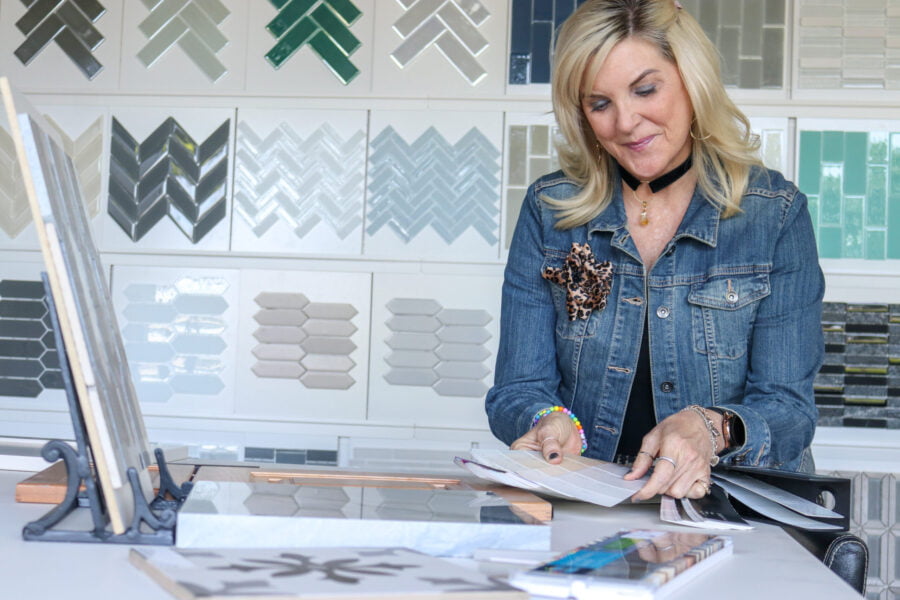 Choosing The Tile and Countertop Material
Betsy admits, they went in as "newbies" and weren't aware of all of the new materials to choose from. She mentioned how much she appreciated the patience of the designer to walk her through the process and be sure she liked her choices. After ordering a tile sample, Betsy realized it wasn't what she had envisioned and went with a different one. 
They ended up with an artisanal subway tile inset with a darker grout. Initially, Betsy wanted a white grout to get the white on white look but with the designer's urging, realized a darker grout would make the beautiful tile pop and enhance the handmade look.
They chose Viatera's Aria quartz for their countertop material. This quartz is right on trend and has a classic look that will pass the litmus test of time. What's more fun is it looks like a typical white quartz from a distance. But as you get closer, it has a subtle glimmer that adds a fun dimension.
Like Betsy says, "Sparkle makes everyone happy at some level."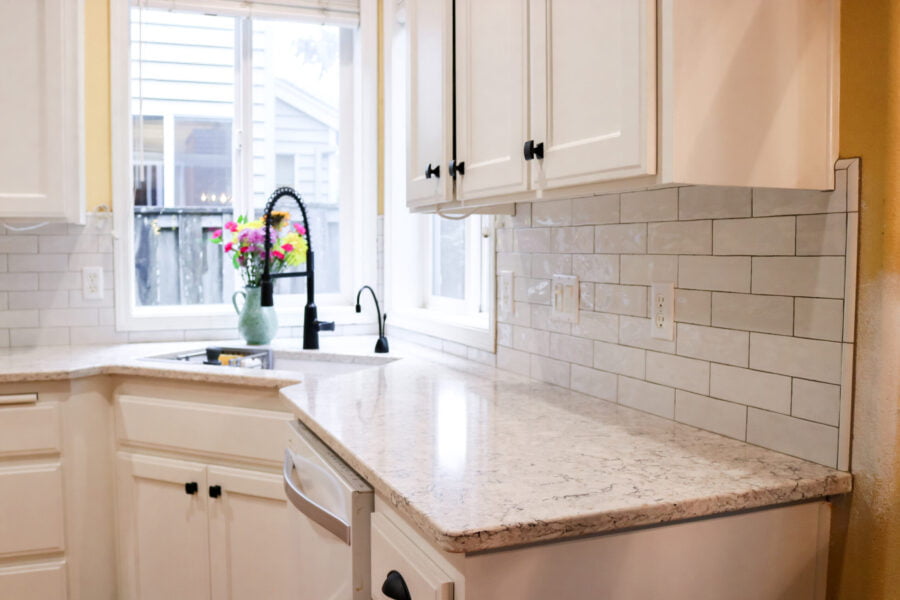 Working with a Project Manager
Once they placed their order, a project manager was assigned to their job. This gives our customers one contact person they can go to to get updates or questions answered in a timely manner.
All of our project managers are in touch and responsive, which is a benefit when you are in the middle of a renovation. This is very much in line with our philosophy of keeping our customers in the communication loop throughout the whole process. It also sets us apart from many other countertop fabricators. 
Betsy and John weren't just getting new countertops, they were installing new appliances, a new sink, updating their adjacent laundry room and adding some architectural touches to give their kitchen a new look. The old hardware was dated so it was swapped out with sturdier and higher quality pulls.
There are a few steps in the process of getting their dream kitchen. It all started with a visit to the showroom to pick out the countertops and tile – and it ends with an absolutely gorgeous kitchen!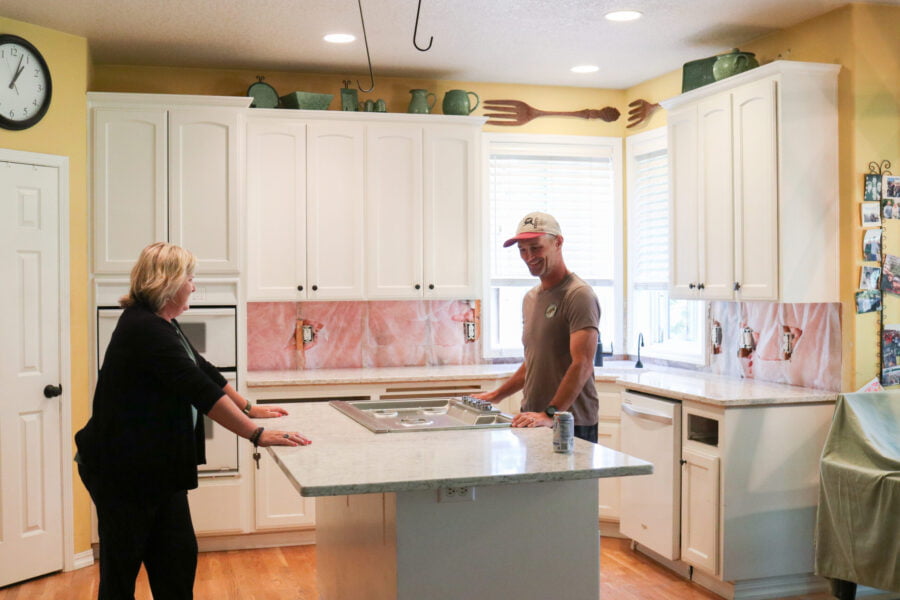 The Precision Process 
At Precision Countertops, we design, fabricate, and install all of our countertops. This is a unique model in our industry so we call it "The Precision Process."
1. Create a Template to Fabricate Your Countertops From
After a customer visits our showroom and decides that they want to buy a countertop, a dedicated project coordinator will contact them to schedule a template appointment.
Measuring and templating the space is a critical step to take precise measurements. We have digital lasers that accurately measure how much square footage of countertop material and tile your job will require. This usually takes half of a day, depending on the size of your job.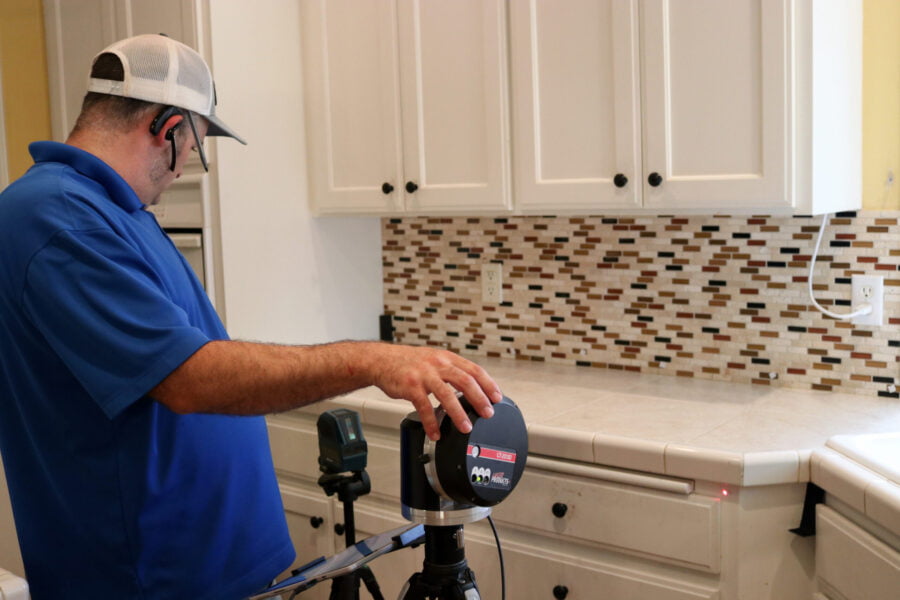 2. The Fabrication Process
This is where the behind the scenes magic happens and your slab transforms into your countertop. Our fabrication team takes the 10 foot by 5 foot raw material and cuts it, polishes it, creates the edges and labels it to get it loaded onto our install crew's trucks. Next stop – your home!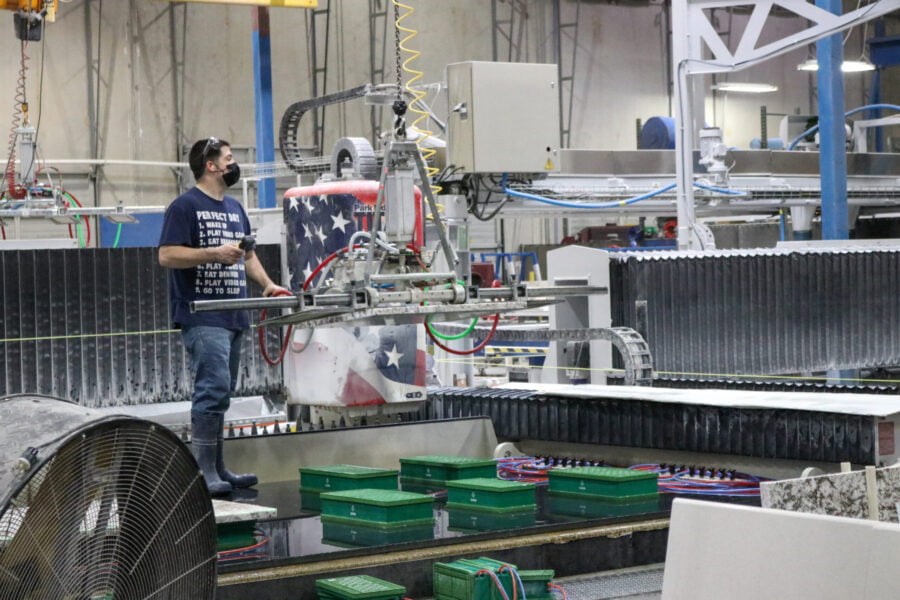 3. The Tear Out and Removal Process
Your next appointment will include both the tear out of your existing countertop and tile and the installation of your new countertop. Our professional installers will carefully remove your countertops and tile as well as unhook the existing plumbing. 
They'll set your new sink in place and then set the countertops. We use a powerful glue that seals your counters into place. We also cut out the holes for the new sink fixtures.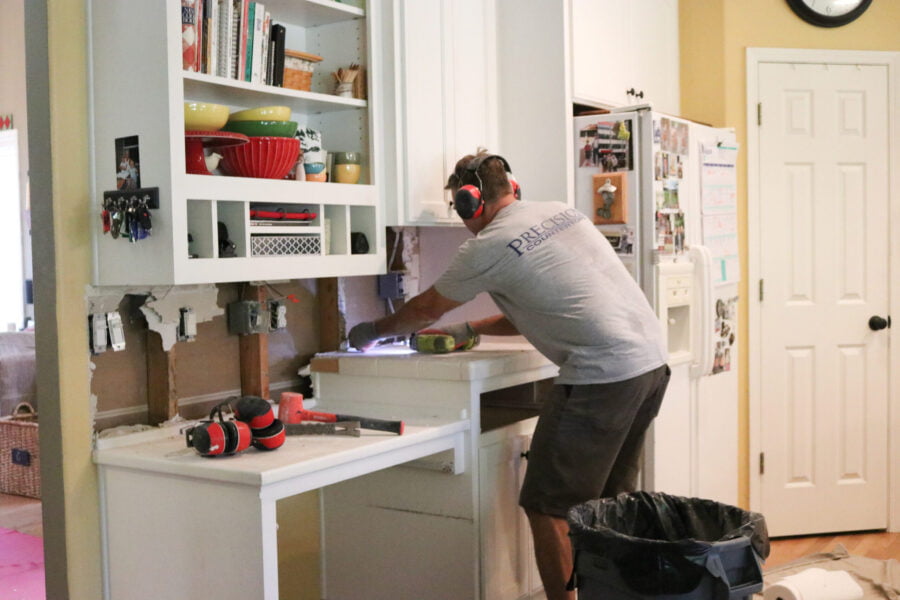 4. The Tile and Plumbing Process
Your project manager will schedule a tile and plumbing appointment to finish your tile and get the final plumbing fixtures hooked up.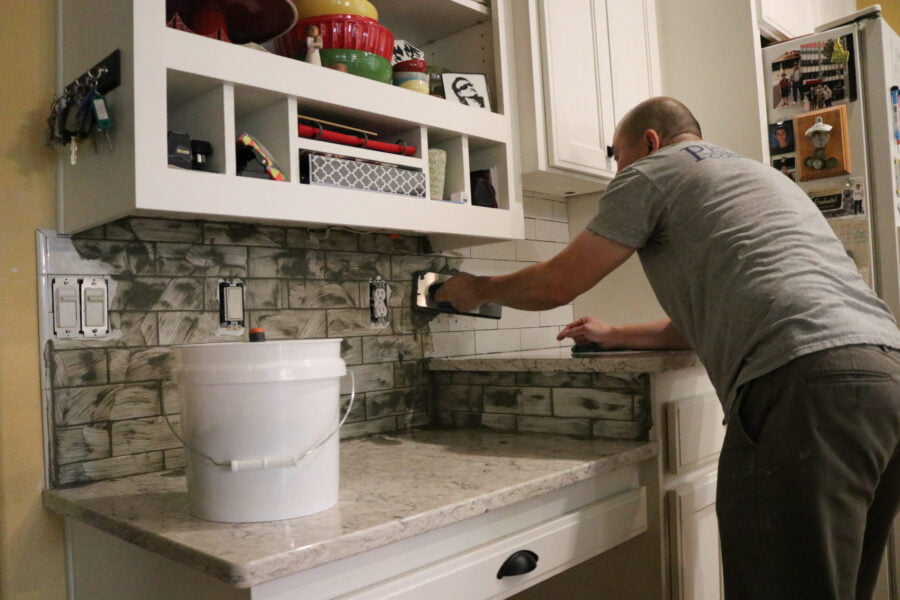 The Final Touches
This is our standard process, but every customer has different needs.
Betsy mentioned, "We got such great ideas from the different trades that came in. Since they see so many projects and kitchens, they had valuable input that we ended up implementing in the space."
So much so they actually added some square footage to their island as well as upgrading to a bigger cooktop. Our tile crew is known for their design eye and helped her visualize a wall of tile in the laundry room.
Speaking of design eye, it would be remiss if we didn't mention this homeowner's flair for making small changes that equaled big impact. For instance, she replaced the glass topped in-kitchen desk space with countertop material. By removing a dated glass top and adding the countertop material it not only brought the kitchen some modernization, it also added continuity to the project.
She also decided to add some beadboard to the island. Instead of placing it on the typical vertical line, she flipped it on the horizontal. Brilliant! Adding texture and interest and the horizontal lines trick the eye into adding more spaciousness.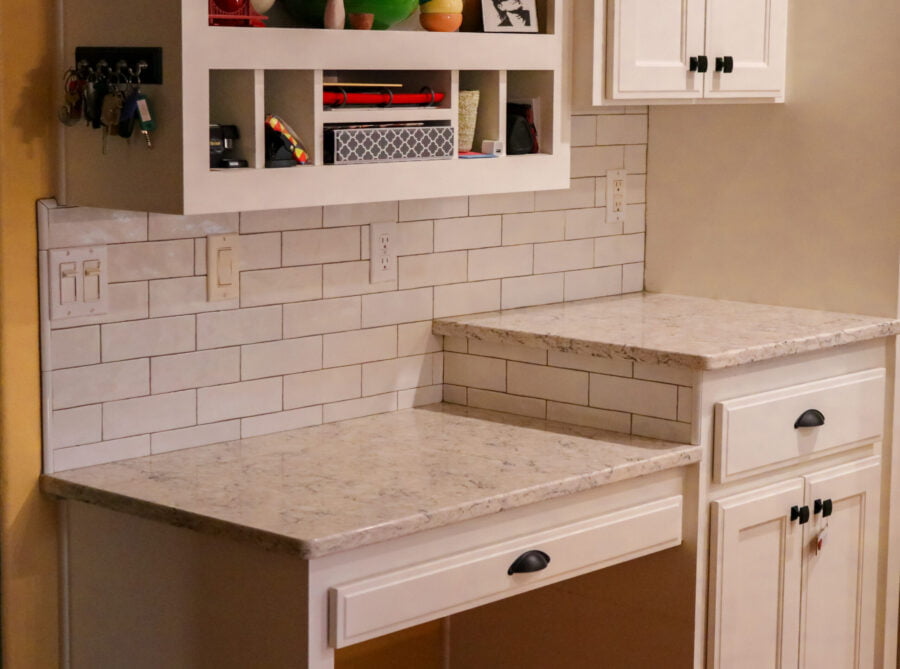 Be sure and take note of this fabulous laundry room.
Betsy said, "Our neighborhood is a friendly and close community. When the garage doors are open our laundry room becomes a makeshift entryway for neighbors who are popping in to say hi."
Betsy wanted this space to feel special. She added a fun and fresh green wallpaper and updated the countertops and added a new sink. The tile on the walls behind the washer and dryer make the space feel more like a main room in the home, not an afterthought. 
Betsy is much like her countertop choice – she's comforting and classic – and when you spend a few more minutes with her, she sparkles. No doubt that laundry room gets a lot of traffic from friends and neighbors, it's a beautiful space with a wonderful hostess.
Thank you Betsy and John for letting us film this whole process. We hope you enjoy seeing our amazing teams working their magic!