Total kitchen remodels can be expensive, and cabinetry is easily the largest ticket item on your renovation list.  According to this Better Homes and Gardens article, the NKBA estimates that 30% of your kitchen budget is allocated to cabinetry. So what's a homeowner to do if their budget doesn't allow for brand new cabinetry but they still want to update and modernize their kitchen?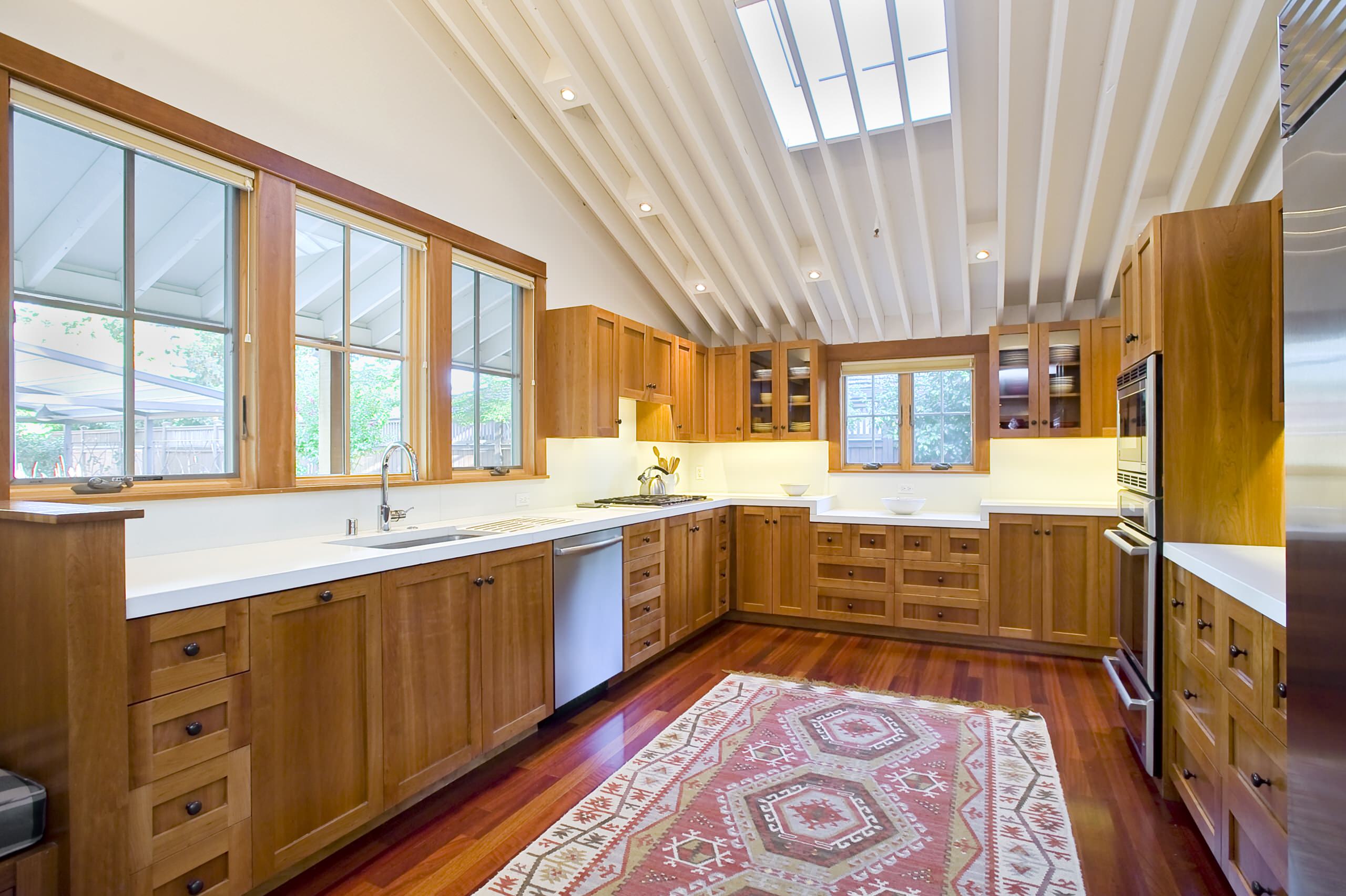 At Precision Countertops, our team of designers have answers to many tough questions that homeowners face when they begin a remodeling project. Kim Sattler, a designer that has been with Precision since 2005, says,
"Often times we have clients come in who d
on't want to change out
their
oak or cherry cabinets but want to modernize their kitchen. They have stained cabinetry that reads warm, yet countertops have been trending towards the cooler white quartz that mimics Italian marbles." 
Kim offers a great solution to this dilemma. There are options that have more cream in the background and warmer veining that leans slightly away from the colder, large gray rivers that some of the modern quartz colors have. Here are three of our favorite quartz selections that will go well with wood stained cabinetry and they mimic that marble look that's so on trend right now. These colors are all from our LG Hausys line of quartz called Viatera.  
Soprano
Soprano is grounded in a creamy white with light veining. The veins lean towards a warm honey color. LG Hausys states, "it harmonizes ideally with any setting and surrounding due to it's attractively neutral color tone."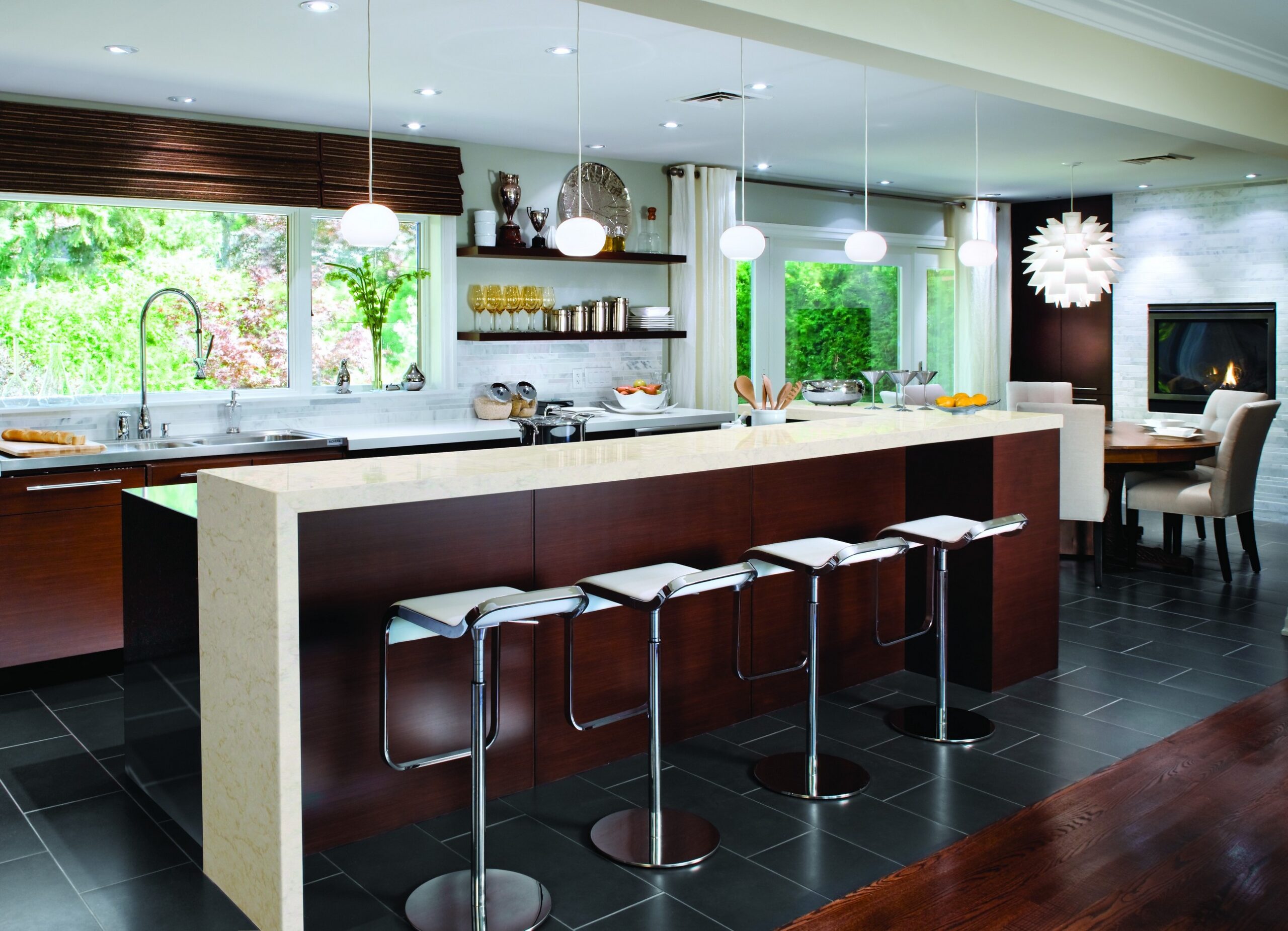 Clarino
Clarino's veining is more defined than Soprano's, so there's more contrast and movement. LG Hausys describes Clarino as, "a warm white background is elegantly contrasted with a chorus of gold toned veins, making for a concerto of subtle shades."  It comes in either Polished or Brushed Finish. The Brushed Finish is gorgeous, it somehow seems to pull out the colors and create more depth.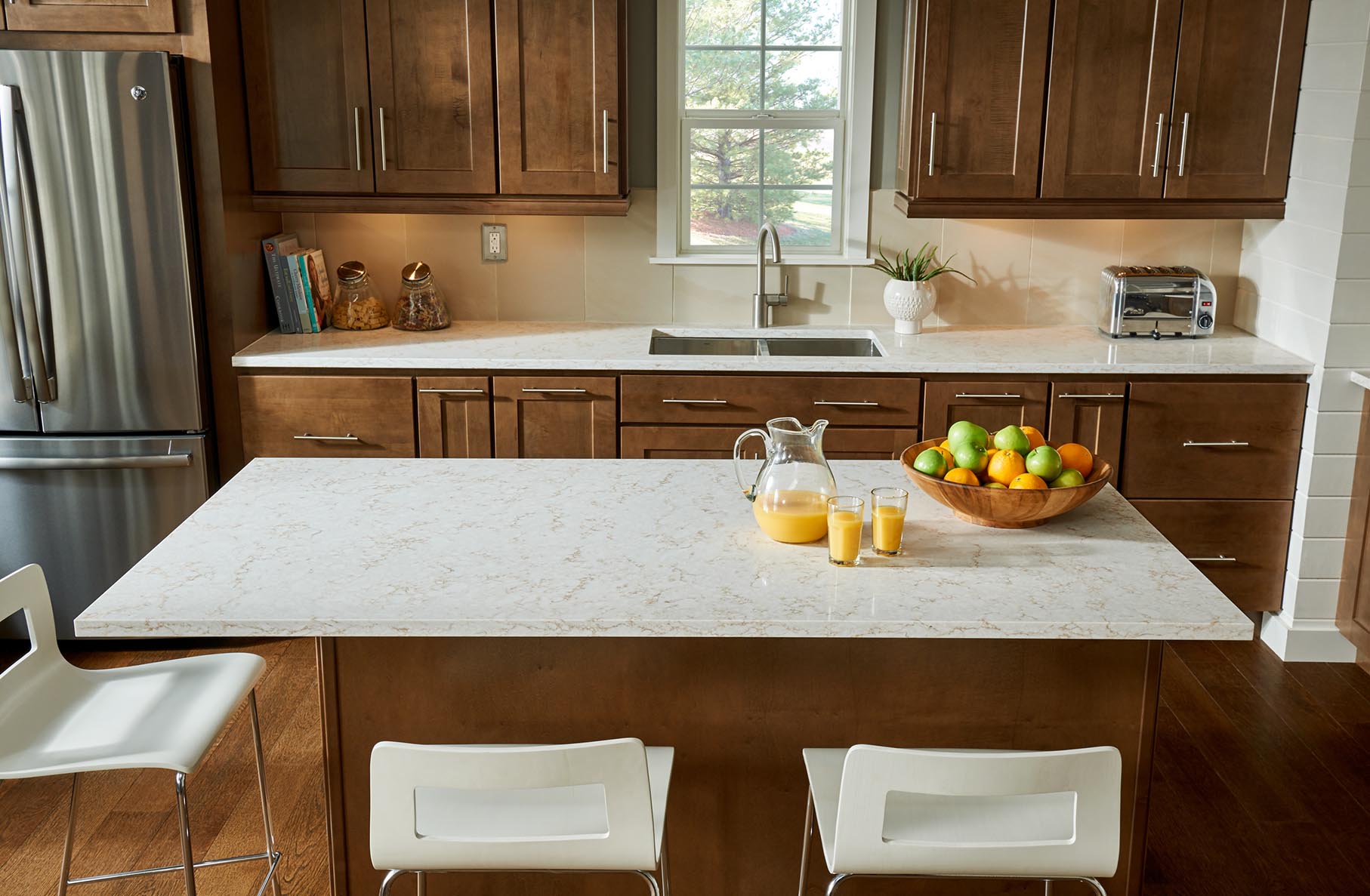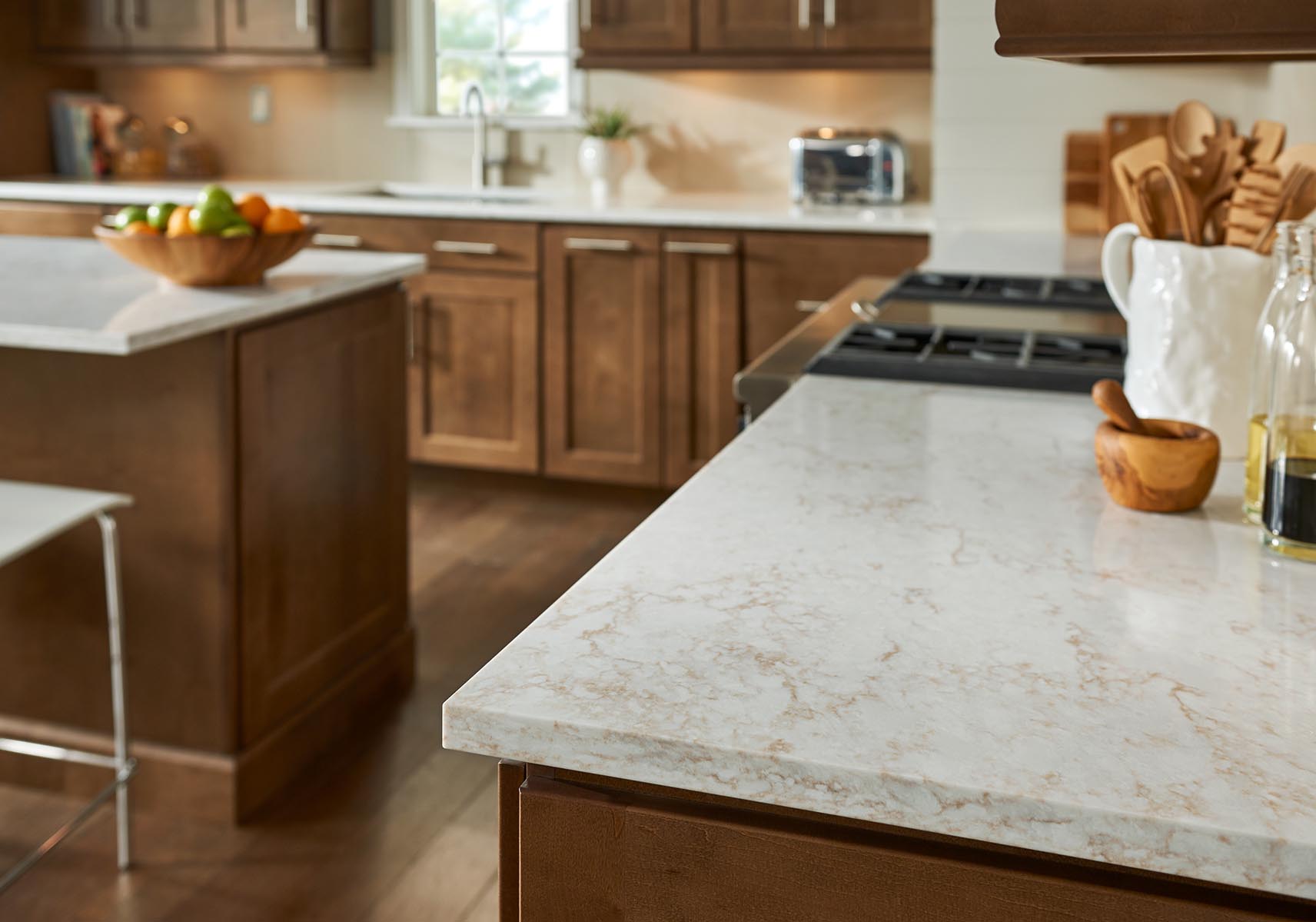 Lumina
Lumina is going to be a touch more modern than the above two, thanks to the whiter background. LG Hausys explains this color as having, "a long veined white design with warm gray and golden veins. Spider webbing between the veins captures the realism of natural stone. Lumina's beauty is ageless." Jodie Simpson, LG Hausys Viatera territory manager adds, "This is a new color for LG Hausys and its depth and movement are beautiful. Because the warmer hues in the gray veins are a wood tone, it goes really well with any stained cabinetry.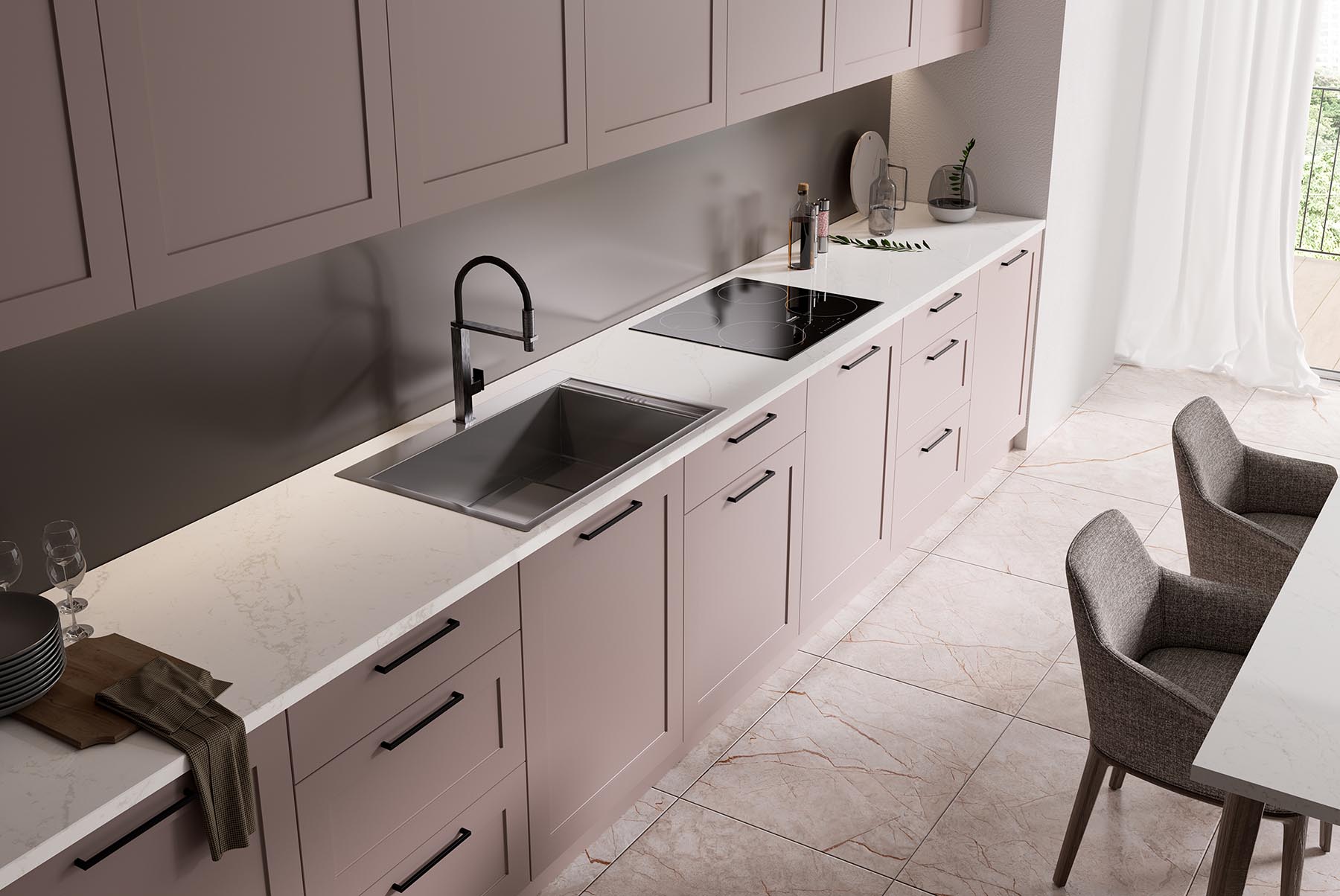 Not only will these LG Hausys Viatera colors update a kitchen without breaking your budget, you get the durability and ease of owning quartz. Since it's non-porous, it is stain and crack resistant and requires no special maintenance. They have the integrity to keep looking beautiful for years and years to come. 
Don't forget you can also give your cabinets a facelift without totally refinishing them. Refinishing and repainting cabinetry can be cost prohibitive to hire out and if you decide to do a DIY job, it can be laborious and technical. Just switching out the hardware on outdated cabinets can make all the difference. By trading out the swirly, dated handles with modern sleeker ones you can help bring the whole look up to date. Also, giving them a good cleaning and polish can breathe years back into them. 
If you feel like your wood cabinetry is bringing down the rest of your kitchen, please come in and see one of our designers for a free design consultation. We can help you choose a new countertop and backsplash.. moving your outdated kitchen into the modern times!